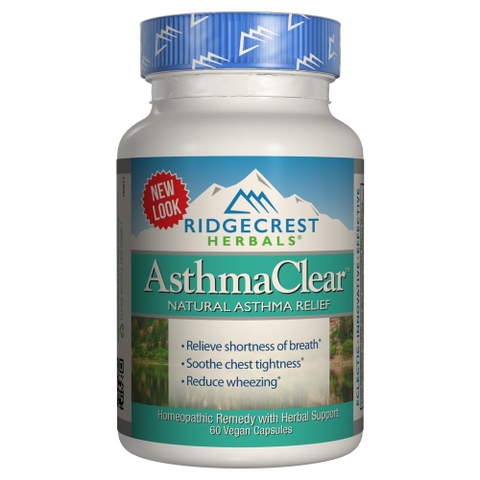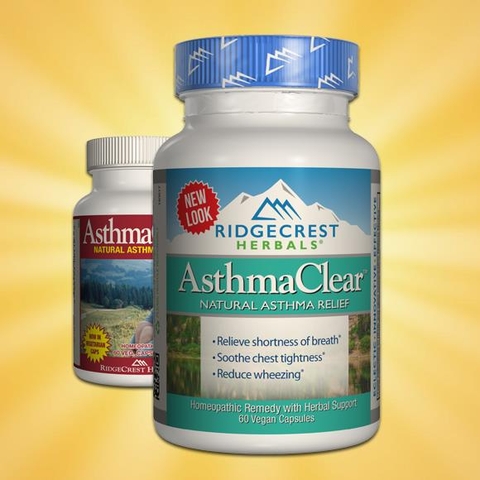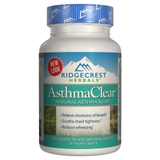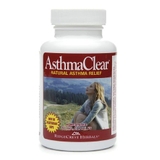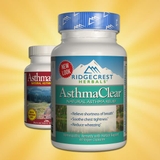 Asthma Clear Homeo and Herbal Asthma Relief. Lọ 60 viên
AsthmaClear là một phương thuốc phối hợp vi lượng đồng căn và thảo dược để hỗ trợ điều trị hen phế quản. AsthmaClear giúp làm giảm khó thở, tức ngực, thở khò khè do hen phế quản.
Sự pha trộn sức mạnh tinh tế của vi lượng đồng căn với sự khôn ngoan cổ xưa của y học truyền thống Trung Quốc đã tạo ra AsthmaClear công thức độc đáo và mạnh mẽ giúp giải quyết các triệu chứng của bệnh hen suyễn theo một cách hoàn toàn mới. AsthmaClear với công thức giúp cơ thể đáp ứng tốt hơn với các dị ứng đường hô hấp.
Tác dụng:
AsthmaClear giúp "mở" đường hô hấp, hỗ trợ cho các trường hợp khò khè, khó thở dạng "khô" (không có đàm/đờm).
Sự khác biệt giữa ClearLungs và AsthmaClear :
ClearLungs là một loại thuốc làm sạch đường hô hấp, giúp thông thoáng đường thở (đưa các chất bẩn đàm/đờm ra ngoài khi bạn bị cảm lạnh, tang tiết dịch nhầy đường hô hấp)
AsthmaClear giúp làm giãn phế quản giúp dễ thở hơn trong các trường hợp co thắt phế quản của hen suyễn
Công dụng:
Giúp giảm tạm thời các triệu chứng của hen phế quản, bao gồm khó thở, tức ngực, và thở khò khè.
Hướng dẫn sử dụng:
- Người lớn và trẻ em từ 12 tuổi trở lên: uống 2 viên/lần
- Trẻ dưới 12 tuổi: uống 1 viên/lần
Lặp lại sau mỗi 4-8 giờ (nếu cần)
Thuốc sẽ phát huy hiệu quả trong vòng vài giờ đồng hồ sau khi dung, nếu sử dụng duy trì sẽ gia tăng hiệu quả
Khi đã đạt được hiệu quả mong muốn, nên uống từ 1 đến 2 viên mỗi ngày để duy trì.
Có thể sử dụng liên tục hoặc sử dụng khi cần thiết hoặc mỗi khi thay đổi thời tiết
Thành phần:
Mỗi viên AsthmaClear có chứa:
Homeopathic/HPUS 30C Each
(ambrosia artemisiaefolia, Antimonium tartaricum, carbo vegetabilis, ipecacuanha, kali carbonicum, lobelia inflata, oxygenium, phosphorus, pulsatilla, sambucus canadensis, silica, thuja occidentalis)
AsthmaClear herbal blend 500 mg
(perilla fruit, angelica root, cassia bark, ginger root, chinese licorice root, tree peony root bark, schizandra fruit, tangerine peel)
Thành phần khác: cellulose, cellulose capsule.
Sản phẩm không chứa ngô, sữa, đậu nành, lúa mì, men hoặc sản phẩm động vật
Thận trọng:
Ngừng sử dụng và hỏi ý kiến bác sĩ nếu các triệu chứng không thuyên giảm hoặc nếu xuất hiện thêm các triệu chứng mới
Nếu bạn đang mang thai hoặc cho con bú, tham khảo ý kiến của bác sỹ.
Để xa tầm với của trẻ em.
-------------------------------------------------------------------------------------
Review từ các khách hàng Mỹ
Asthma helpers,
December 29, 2013
Rating:
The remedies for asthma and allergy related issues can not always work so this capsule does help to relieve break through but does not replace your everyday meds.
Fantastic Produft,
December 27, 2013
Rating:
This product has seemed to help my allergies and asthma. Since taking, very seldom use ny asthma rescue inhaler. Good response to this
AWESOME,
December 22, 2013
Rating:
This product works very well for me, may not work for you, but you need to try, this is better than the inhalers
Clears up the wheezing and chest tightness right away!,
November 7, 2013
Rating:
I have been using the Red ClearLungs product for "wet" lung congestion. Then I ran across the AsthmaClear and thought I'd give it a try. It is for dry wheezing, chest tightness, shortness of breath, which I have, in addition to the mucus lung congestion.
So when I feel the need to reach for my albuterol inhaler, I take 2 capsules of the AsthmaClear instead. It works great and clears up my chest tightness and shortness of breath extremely quickly!
For prevention purposes, I will start taking 2 capsules twice a day.
I recommend this great product! Thanks for writing the clear and specific reviews which helped me in finding a product just for me!
It does help me,
September 30, 2013
Rating:
Here is my story hopefully to help someone.
I had childhood asthma and grew mostly out of it with only the occasional need (once every few months I would need a puff of my rescue inhaler)
Recently my asthma came back. I am 48 male in Weston Florida. The Doctor thought it was because acidreflux had irritated my esophagus somehow so Ive been using rescue inhaler on average 2 times per day sometimes 3 and in general feeling out of breath. Doctor wanted to put me on 2 daily inhalers but I wanted to find another solution.
Tried essential oils seemed to help somewhat. I changed my diet big time mostly fruits and vegetables lean protein and avoid diary, gluten, sugar and in general it made me felt much better but still had tightness. Then I started taking two products Asthma Clear and Quercetin (recommended to me by vitamin store. Very happy with the results. It was the first time in months that I actually felt normal and could forget about my breathing all together. No side effects for me except feel like I just drank coffee. I know this is premature because I just started recently but felt so good I wanted to posts review. (I am going to post updates) No doubt these products does not work for everyone as the bad reviews reveal but lucky for me it helps me out. I'm hoping to minimize my use of anything.
Update oct16. Diesel fumes set me off the other day. Bottom line for me is: Asthma clear helps me I can almost feel when it kicks however I still need rescue inhaler when something triggers smoke, strong smell, allergy. I'm not using rescue inhaler as often which is a good thing. Im going to start a journal for myself to keep track of my diet, number of pills, how I feel etc I'll keep updates as it progresses. Good luck.
Update Oct 19 I forgot my Asthma Clear bottle at my desk so I couldn't get to them for the day and I ran out of Quercetin so I went to the store but I could only find Quercetin so I bought that and immediately (about 15 minutes) after taking the Quercetin I got amazing relief. So now I'm not sure if it was the Asthma Clear that is helping or the Quercetin or both. (Those times I needed to use inhaler I was taking a lower than prescribed dose of Quercetin so maybe that has something to do with it) For now I'm going to take both Asthma Clear and Quercetin just to enjoy the relief but I'll experiment to find out what works better for me. Go check out the Quercetin reviews also. Quercetin with Bromelain is what I've been taking along with the Asthma Clear. The reason it is not five star is because im not sure if its so HMA clear or quercetin that helps the most. Good Luck to you. Hope this helps.
Amazing!!!,
April 29, 2013
Rating:
I have suffered from asthma for years and went to countless doctors and took countless prescrption medications over the years. The inhalers only gave me partial relief and the side effects were horrible. When I saw this product I was hesitant to try it. But, thanks to the reviews I decided to give it a try and for the first time in years actually have true relief from the shortness of breath, wheezing, chest presure, etc! I've been using it for about a year and will never, ever be without it again! Although I still carry a rescue inhaler with me I haven't had to use it since finding this product. I keep a bottle of Asthma Relief in the car, another bottle in the house and I even keep another bottle at my mom's house for when we visit!
As soon as I feel like my chest is getting tight I take 2 pills and before I know it the tightness is gone. I rarely now have an asthma attack but when I do I reach for my bottle of asthma relief first.
I also used this product last winter when I had bronchitis and it helped tremendously.
I very highly recommend this product to anyone who has asthma. It's literally changed my life! Even though I still have asthma now it's actually under control!!
WHY DID I NOT FIND OUT ABOUT THIS SOONER?????,
June 30, 2012
Rating:
This item, I'm pretty sure, has essentially saved my life. I bought this product because I could not afford my prescription and the Primatene pills didn't work too well. I've only had them for 3 days, but I'm already down to 1 every few hours instead of two. It suggests that once desired effects have been reached, only taking 1-2 per day. The Primatene make it a little easier to breath for a little while, but I feel like I need them after 2-3 hours, even though I'm supposed to take them 4 hours apart. With these pills, I feel the effects within an hour and don't feel asthma symptoms usually for another 6-8 hours. The only time I start feeling asthma symptoms again is if I wait 12 hours to take another pill and sometimes when I just wake up.
I am a moderate smoker (I know, I'm horrible) and using Primatene, I would still feel mild asthma symptoms while smoking. With this stuff, I feel absolutely fine. No shortness of breath, no chest tightening, no wheezing
It really seems to work !,
January 30, 2012
Rating:
I was managing my Asthma with an occassional dose of Primatine Mist (Ephedra)
I tried the perscription route from a docter with moderate to no success.
The over the couter inhaler seemed to work better than albuterole or Avir so I kept using it. This past year the FDA pulled Primatine mist from store shelves, leaving me without any medication.
My Astma started to get worse and I was getting 1 to 2 Asthma attacks everyday.
I guess it was time to go back to the doctor. I decided to try astma clear before being forced to feed the pharmacutical cash cow, one more time.
WOW !
It has been 12 days since I started taking Astma Clear, and can honestly say have not gotten a single Astma Attack.
I am breathing better, sleeping better. I feel no fluids in my lungs, no wheezing, almost no coughing and best of all no attacks.
I am a believer of this product and will be ordering more in the coming days...
Great stuff!!,
December 30, 2011
Rating:
Their other product Clear Lungs is mostly for "wet" lung congestion. The Asthma Clear is for dry wheezing, chest tightness, shortness of breath, which is what I have. Man this stuff works great! I took 2 capsules every 4 hours for the first couple of days, and now have gone down to 2 capsules twice a day. This is an awesome product.
Finally able to take a breath.,
March 18, 2011
Rating:
I took this product at 30 pass the hour. And with in 20 minutes after only taking two pills. I was not feeling tightness in my chest nor was I wheezing any more. Just that fast it worked for me. It is so nice to be able to breath normal without my back hurting.
I am 40 yrs old female. I have had asthma for 31 yrs now. And, I have been on inhalers after inhalers all my life. My asthma is allergy and weather triggered.
A good substitute for Primatene or steroids,
March 12, 2011
Rating:
Having problems with chest congestion/asthma due to allergies, I'd been taking Primatene for years. My wife, who is an RN kept telling me the Primatene is not a good product, so I began to search elsewhere for a substitute and found Asthma Clear.
This product works a bit slower than the Primatene, but it does work and it provides the relief I need to breathe freely once again. All natural ingredients are a plus as I'm definitely opposed to prescription meds such as steroids which md's seem to prescribe without giving a second thought to their consequences.
I will definitely reorder this product.
Worth it; for sure!,
January 2, 2011
Rating:
My 9 year old son has had breathing/asthma type problems & allergy problems for most of his life and has gotten colds easily. We've tried conventional meds for my son, but didn't like the side effects & they actually made him sicker. I had someone recommend AsthmaClear. We started giving it to him about a month ago. My son is able to play sports without tightness in his chest & he's been able to keep up with the other boys. He noticed a difference after the 2nd day. The cronic cough he's had is gone. He has been around other kids who have colds & he has not gotten a cold. I am so happy with this product; it's made a big difference for him. And no icky side effects.
Yes it works,
June 17, 2010
Rating:
Ok, I bought this for my husband who for about 12 years has had a constant cough. He has been to the doctor many times but to no avail. He has taken asthma medications but they haven't helped. He has a lot of allergies and this makes his breathing worse. He says it is like a tightness in his chest which cause him to feel wheezy and like he can't breath. He couldn't take deep breaths and tried not to laugh very much as this irritated his asthma even more. I came across this accidently and looked around for some reviews to see whether or not it actually worked. There aren't very many reviews on this product but I decided to give it a try. It did work. Praise the Lord! It isn't a 100% fix but he coughs much less and his chest isn't as tight anymore. If he forgets to take it he can feel a difference. Sometimes I hear him coughing and I ask if he has taken it and of course he hasn't.