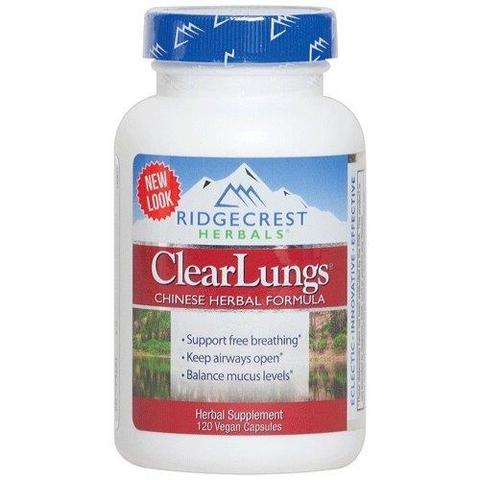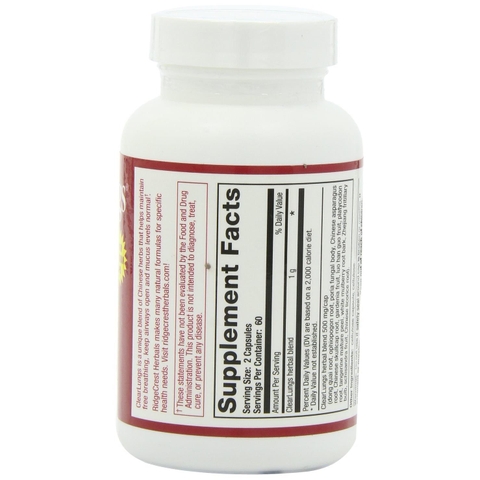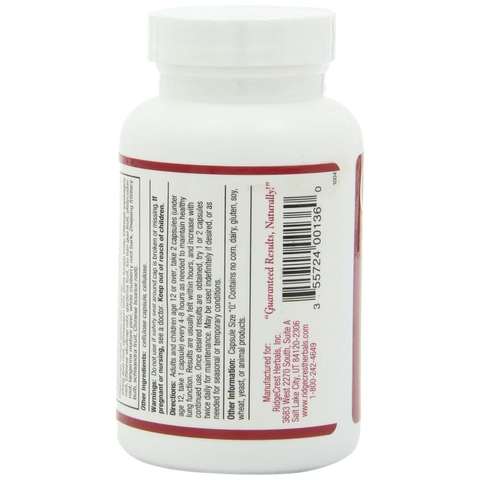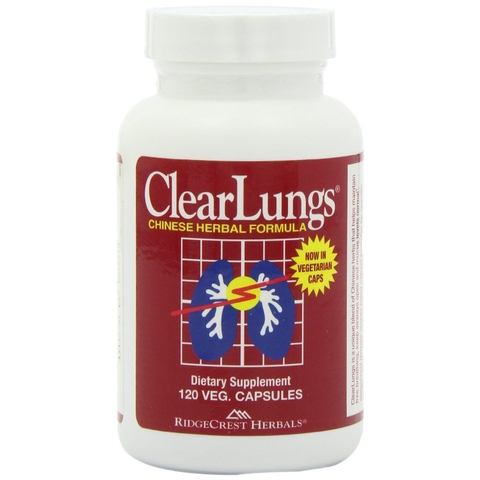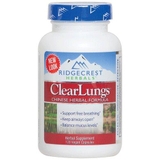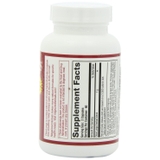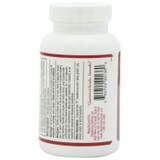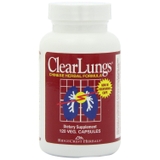 ClearLungs Chinese Herbal Formular (nhãn đỏ). Lọ 120 viên
ClearLungs là sản phẩm hỗ trợ đường hô hấp tự nhiên #1 tại Mỹ từ năm 1998
ClearLungs được tinh chế bằng các loại dược liệu chọn lọc có tác dụng trong việc duy trì và hỗ trợ chức năng hô hấp một cách hiệu quả. Công thức thảo dược tự nhiên của Trung quốc cân bằng hoàn hảo tác dụng nhanh và hiệu quả đối với các trường hợp phế quản tắc nghẽn, đau thắt ngực, thở khò khè...
Tác dụng:
ClearLungs 100% nguyên liệu tự nhiên mỗi thành phần có một vai trò đặc biệt trong việc cung cấp hỗ trợ dinh dưỡng cho hệ hô hấp
- Dongquai root (Angelica sinensis): có tác dụng kháng viêm, chống co thắt và làm giãn mạch…
- Poria sclerotium (Poria cocos (Schw.) Wolf): làm giảm ho, sưng viêm, tiêu đờm và cải thiện hệ thống miễn dịch.
- Ophiopogon root (Radix Ophiopogonis): giúp nuôi dưỡng âm của phổi, biểu hiện của ho có đờm dính, ho có đờm lẫn máu và làm ẩm phổi.
- Luo han fruit (Momordica grosvenori Swingle- quả dành dành): giúp tiêu đờm, giảm ho trong chứng tắc nghẽn phổi và hỗ trợ điều trị các bệnh về đường hô hấp
- Chinese asparagus root (Asparagus cochinchinensis-rễ măng tây Trung quốc): có tác dụng bổ phổi, giúp làm ẩm và làm sạch phổi, loại bỏ các độc tố ở phổi và phế quản, cải thiện chức năng hô hấp.
- Tangerine mature peel (Vỏ quả quýt chín): tiêu đờm, chữa ho, thanh lọc phổi, kích thích tiêu hóa.
- Zhhejiang fritillary bulb (Bulbus Fritillariae Thunbergii-củ cây bồi mẫu Chiết giang): tiêu đờm, giảm ho, sốt, làm thông khí phế quản, giúp loại bỏ các chất độc ở phổi và phế quản, nuôi dưỡng phổi
- Gardenia fruit (Gardenia jasminoides-quả cây sơn): tác dụng tiêu viêm, hạ sốt, tăng tuần hoàn máu giúp cho vận chuyển oxy vào phổi nhiều hơn
- White mulberry root bark (Morus alba-rễ dâu tằm trắng): tác dụng kháng khuẩn, chữa cảm lạnh, ho, viêm họng.
- Platycodon root (Platycodon grandiflorus): có tác dụng chống viêm, giảm ho và cảm lạnh, giúp cải thiện chức năng của hệ thống miễn dịch, kích hoạt các tế bào miễn dịch như tế bào B và đại thực bào, giúp tăng tuần hoàn máu.
- Chinese skullcap root (Scutellaria baicalensis.): có hoạt tính kháng histamine, có tác dụng giảm hen suyễn
- Schisandra fruit (Schisandra chinensis - ngũ vị tử): giúp giảm ho mãn tính, hen suyễn, làm ấm phổi, tiêu đờm
- Chinese licorice root (Glycyrrhiza uralensis-cam thảo bắc): giúp giảm ho và đau họng, làm loãng đờm, giúp tống đờm ra ngoài; giúp giãn phế quản, kháng virut trong họng và đường hô hấp.
Công dụng:
- Thải độc phổi, bổ phổi
- Giúp cho đường khí quản mạnh hơn, tiếp cận nhiều dưỡng khí hơn đồng thời tống xuất bớt những tác nhân gây hại cho phổi, làm thông hơi thở, giảm ho, tiêu đờm, giúp không cho đờm nhớt từ phía trong mũi không tiết ra nhiều chảy xuống cổ họng gây ra ho, giúp làm loãng đờm và tiêu đờm, chống cảm cúm, đau nhức, giảm nóng sốt, giảm hen suyễn và bệnh phổi tắc nghẽn mãn tính…
- Tăng cường hệ thống miễn nhiễm, giúp cho phổi vững mạnh , có thể giúp ngăn ngừa bệnh viêm phổi cấp tính.
Hướng dẫn sử dụng:
- Người lớn và trẻ em từ 12 tuổi trở lên: uống 2 viên/lần
- Trẻ dưới 12 tuổi: uống 1 viên/lần
Lặp lại sau mỗi 4-8 giờ (nếu cần)
Thuốc sẽ phát huy hiệu quả trong vòng vài giờ đồng hồ sau khi dung, nếu sử dụng duy trì sẽ gia tăng hiệu quả
Khi đã đạt được hiệu quả mong muốn, uống từ 1 đến 2 viên mỗi ngày để duy trì.
Thành phần:
Mỗi viên Clear Lungs có chứa:
ClearLungs Herbal Blend 500mg
(dong quai root, poria sclerotium, ophiopogon root, luo han fruit, chinese asparagus root, tangerine mature peel, zhejiang fritillary bulb, gardenia fruit, while mulberry root bark, platycodon root, chinese skullcap root, schisandra fruit, chines licorice root)
Các thành phần khác: Cellulose
Sản phẩm không chứa các thành phần từ ngô, sữa, đậu nành, lúa mì, gluten, men và các sản phẩm động vật.
Thận trọng:
Không sử dụng nếu niêm phong bị rách hoặc không có niêm phong. Nếu bạn đang mang thai hoặc cho con bú, tham khảo ý kiến của bác sỹ. Để xa tầm với của trẻ em.
-------------------------------------------------------------------------------------
Review từ các khách hàng Mỹ
From Hugging and puffing to breathing with ease in no time!
December 19, 2013
By Fran (United States)
Rating:
Several months ago I caught something that went straight to my lungs. As someone who has had pneumonia several times, I was committed to NOT get it again. I couldn't walk across my house without stopping to breath. I called my local health food store and they told me about Clear Lung. I had to park at the curb because I couldn't get from the parking lot to the door due to my shortness of breath. I took 2 capsules and was pleasantly surprised that within a few hours I was walking straighter and could make it across the house with ease ... and the symptoms cleared more and more over the next few days. I have since re ordered on Amazon (price is much better) and referred many friends with CoPD and Asthma to try this out and they loved it. I love natural cures and resist taking any medications - its such a relief to know i have a quick solution for when I feel the onset of congestion.
If I can help one person
December 16, 2013
Rating:
Google Black Seed oil. Please, if I can help one person. It all natural. I can't recommend enough. My asthma improved 95%. But not 100% cos I still smoke 4/5 cigs evenings so that is my fault. Nigella and melatin are two ingredients in Black Seed that contribute greatly to its highly diversified powers. These substances work together to provide the digestive benefits that have been revered in Black Seed. They also promote cleansing and assist with overall eliminating action. Two of the most volatile oils found in Black seed are nigellone and thymoquinone which were fist discovered in the herb in 1985. Nigellone offers both anti-spasmodic and bronchodilating properties which contribute to Black Seed's potency against respiratory ailments. It also acts as an antihistamine which helps to reduce the negative symptoms of allergy sufferers. Thymoquinone contains excellent anti-inflammatory and analgesic properties. It is also a strong anti-oxidant and helps cleanse the body of toxins. Both nigellone and thymoquinone work in conjunction with one another to enhance Black Seed's action against respiratory ailments. It also provides a healthy alternative to the more commonly prescribed cortisone based therapies used by allergy sufferers
Clear Lungs
December 11, 2013
Rating:
It really works relieve congestion. I would recommend it anyone. The price was also great. I 'll order again next time.
This is the Real Mccoy
November 22, 2013
Rating:
This product is fantastic. I use it when congestion in my lungs flare up. It works quickly and is natural. I always keep a bottle on hand.
Best lung clearing item I have ever found
November 22, 2013
Rating:
I have trouble with bronchitis & pneumonia. This product kept my lungs clear through the cold period that usually leads to other problems. Great item!
Take A Breath
November 21, 2013
Rating:
Have tried numerous supplements to improve my lung function. Hands down this is the best of all lung supplements. Takes 20 minutes or so and the difference in ease of breathing is VERY obvious. Virtually eliminates fluid build-up (phlegm) throughout the pulmonary system, from throat to lungs. You can take this supplemet every 2 to 4 hours, "as needed". Also, while my system is pretty sensitive, I've had ZERO side effects: No headache, indigestion or anything else. Love this product and will always have some in the cabinet. Great price point and quick shipping just adds to the fun.
Good for asthma
November 20, 2013
Rating:
I think these really work for my daughter's asthma. She takes one daily to keep symptoms down and will dose up if she has a flare up. Within 30 minutes her lungs have noticeably calmed down.
Highly recommended from an experienced medical professional..
November 17, 2013
Rating:
Cleared up my chronic bronchitis and lung irritation in about 2 days, 2 caps twice a day..lung pain and shortness of breath almost non existent now..very surprised and extremely happy with the results..I'm a medical professional, and was leery, but this product does deliver significant relief to those with respiratory issues..I'm not saying it's going to heal extremely life threatening illnesses,but for folks who have quit smoking, or have some kind of chronic lung irritation, I definitely recommend this stuff..also try adding a good garlic extract..
Awesome
November 13, 2013
Rating:
Great stuff. Off all my asthma meds except my inhaler occasionally. Would definitely recommend to anyone having breathing difficulties. My triggers were cold air and tree pollen.
Long-term Relief from Sinus Drainage
November 7, 2013
Rating:
I have very severe allergies, which have caused adult-onset asthma. I have tried all the prescriptions my doctor recommended, with no satisfying results. When an attack would hit and my lungs would fill with mucus, the only relief came from my albuterol inhaler and over-the-counter Sinus Mucus meds which contain 400 mg Guaifenesin and 10 mg Phenylephrine HCI.
I searched for a non-chemical solution to the phlegm/mucus buildup in my lungs, which drains from my sinuses. I was really happy to find the Red ClearLungs formula. I read all the reviews to find just the right kind which would deal with my same issues of sinuses draining into the lungs.
This works great, and helps me to wean off of the sinus mucus meds. The chemical meds work very quickly (within 5-10 minutes), while the ClearLungs is a bit slower acting (20 minutes to work), so it doesn't help with immediate relief from coughing attacks. As a preventative measure, I am working on taking 2 pills morning and night to keep the mucus away on a more permanent basis.
Great product! Thanks for all your helpful, detailed reviews which aided me in finding the right product for my symptoms!
Clears my lungs
October 21, 2013
Rating:
This is a very good product. I have recommended it to friends for lung congestion for asthma or a cold that
seems to settle in the lungs and won't clear up. I have allergies and some times my lungs feel congested.
I take one Clear Lung and feel the relief right away. I don't use it on a daily basis, but when I need it, it
works.
Unbelievable.....
March 3, 2013
Rating:
Mucinex- one of the worst meds on the market to 'relieve congestion'. 400mg, and it does nothing really, except give horrid jittery side effects. And cough syrup just tastes so bad...
It work within 20-30 minutes, it is side effect FREE.
I'm no rocket scientist, but this stuff works. I even guinea-pigged a friend with a tight cough, and with the same positive effects within 20-30 minutes.. it works so well that I have also ordered the capsules to try.
Much more effective than I had believed
April 6, 2012
Rating:
Someone told me about this supplement several years ago but I didn't try it because although I do take vitamin supplements I haven't found most "herbal remedies" to be effective for me and I don't like the fact that you often don't really know what's in them. However recently I was having a miserable flair-up of my asthma brought on by a viral bug and in one of those "try anything to get some releaf" moments I saw this at the vitamin store on the discount table where they put stuff that's about to expire and bought the bottle. I took two of them on my way home and noticed a dramatic difference by the time I got home and got my stuff put away. I'd been coming home to sit on my albuterol nebulizer but by the time I'd gotten my groceries put away I didn't feel the need to use it. I've been taking these since then and have been very impressed with them, I haven't breathed this well in years even when I'm not having a flair-up. I'm still a little leery of some of the ingredients, whether they are safe for extended use or not but considering the side effects of some of my asthma medications which at various times include albuterol, flovent and prednisone I'm still giving this 5 stars and will sing its praises as long as it keeps working.
Update: I'm still singing this supplements praises. Cold and flu season hit and I had a really bad cold that lasted for weeks. This type of cold would usually have led to me ending up on massive doses of asthma meds but although I increased my dose of Clear Lungs back to several doses a day, it otherwise came and went like normal peoples colds do.
Saved me lots of time and money!
January 16, 2013
Rating:
I was recently diagnosis with Adult onset of Asthma. I have suffered this condition for the past 3 years. I have gone on many trips to urgent care and the ER. Each visit included breathing treatments and anti-inflammatory shots. The doctor started me on daily treatments of anti -inflammatory,inhaler's and disk in haler's. There was no relief. Then the doctor wanted to refer me to specialist. The health cost was too great and the medication was making me feel awful. So I decided to give Clear lungs a try. I have been taking this product for about 2 weeks. It is wonderful!! I take 2 in the Morning and 2 before bed. I no longer us my inhaler and am drug free. Gone is the shortness of breath and wheezing .I can finally take a deep breath. This relief is priceless. Great product!!! Thank you!!! Thank you!!
Clear Lungs REALLY Works
December 19, 2011
Rating:
I have a condition - along with so many other people these days - called COPD (cronic obstructive pulmonary disease). I had such a terrible time breathing until I bought Clear Lungs. It really did the job on clearing up my lungs. I highly recommend it.
ClearLungs has eased my chronic cough by about 90-95%
October 27, 2011
Rating:
A medical condition Ideopathic Pulmonary Fibrosis causes me to have a chronic and constant cough that my doctors have been unable to provide any relief for to date. After using several unsuccessful prescription medicines, including corticosteroids, I read about ClearLungs in a user post on the Pulmonary Fibrosis Foundation's Facebook page. Figuring I had nothing to lose, I ordered the ClearLungs from Amazon and noticed an improvement within minutes of taking the first dose. My wife is amazed at the results, as well, and it is so enjoyable finally having quiet evenings at home again. In addition to the chronic cough I normally experience what feels like someone gently pressing in on my chest and sternum, giving me the sensation of reduced lung capacity and a congested feeling. This is faint or nonexistent when I use the ClearLungs. I take a total of six capsules per day, 2 capsules at a time and spacing them as close to 8 hours apart as I am able to. After a week of constant use I have not been able to detect any side effects so far and my BP is normal and O2 is about the same or slightly improved. ClearLungs has eased my chronic cough by about 90-95% at this time and I couldn't be more pleased with a product.
AMAZING RESULTS
May 9, 2011
Rating:
A doctor that was a guest on a medical radio program I listen to mentioned that she prescribes ClearLung to her patients. Since my husband suffers with respiratory difficulties I thought I would have him try it. Within a week's time there was a dramatic improvement in his breathing ie: walking up stairs etc. We take a large number of supplements and eat fresh fruits and vegetable but nothing gave him such a noticeable improvement. We are new to herbal formulas(the list of ingredients gave us pause)but ClearLungs has proved to be a valuable addition to our health regime. I make many of my Amazon purchases based on reviews, so I hope this one helps you make your decision a little easier.
Works every time.
September 25, 2010
Rating:
For most of my life I have had problems with my bronchial tubes, typically during season changes or if I am exposed to high levels of dust or fumes. My problem always starts with a light wheezing that intensifies until I can barely sleep, from that point I only have a short period of time to see a medical doctor for a breathing treatment or some albuterol before I reach full blown bronchitis. For years I coped with with annual bouts of bronchitis and occasionally pneumonia. About 3 years ago I first tried Clear Lungs when I started wheezing and to my surprise my wheezing stopped within a few hours, and after taking it for a day my wheezing stopped entirely. I have since taken Clear Lungs every time I start to wheeze and have had consistently good results. Whats more is if I take a few capsules before I confront a known trigger I can avoid the wheezing episodes all together. I would highly recommend this product to anyone who has had similar issues.
D. Cwik
One herbal remedy for my lungs that actually works
May 9, 2010
Rating:
I have tried several herbal remedies for my lungs and this is the first one I have found that I can actually say works. I sometimes have problems after exercising in that my lungs get congested and I get wheezy. I take this and it clears it up!
Chinese herbal remedy acts as expectorant, calms lungs
June 12, 2010
Rating:
I took this years ago, when it was a lot more expensive, and used it in conjunction with acupuncture for sinus problems and allergies. Found it again and it is much cheaper now. Still works great as an expectorant to help me clear my lungs and sinuses during my allergy season.