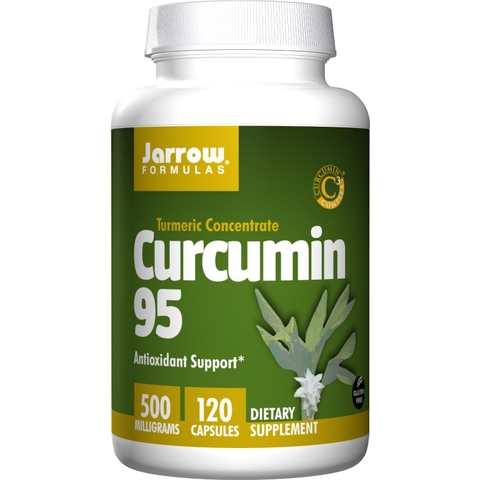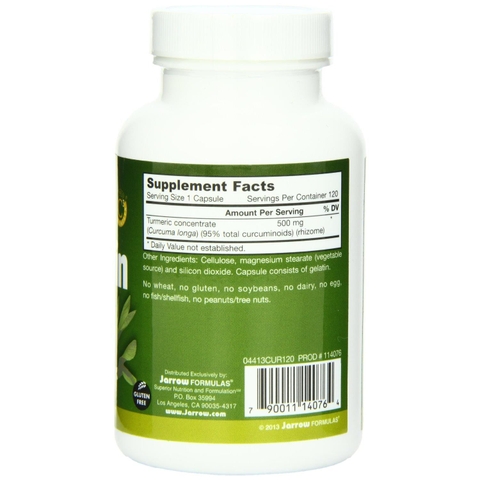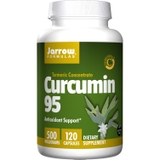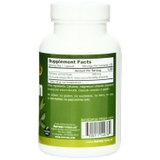 Curcumin 95 (Tinh bột nghệ) 500mg. Lọ 120 viên
Curcumin 95™ là chiết xuất 18:01các chất chống oxy hóa được tìm thấy trong củ nghệ.
Curcumin 95™ chứa 95% curcuminoids (bao gồm curcumin, demethoxycurcumin và bisdemethoxycurcumin) là chất chống oxy hóa mạnh mẽ. Cụ thể, chất curcumin và các dẫn xuất của nó bảo vệ DNA tránh các hư hại gây ra bởi phản ứng oxy hóa trong cơ thể
Tác dụng:
Nghệ với thành phần hoạt chất chính là curcumin, đã được sử dụng lâu đời tại các nước châu Á . Người Ấn độ đã sử dụng nghệ như một chất kháng khuẩn hay sát trùng vết cắt, vết bỏng hay bầm tím. Ở một số nước châu Á như Việt Nam, Trung quốc nghệ được biết tới như một phương thuốc hữu hiệu với các bệnh dạ dày hay giúp nhanh làm liền sẹo.
Nghệ được sử dụng để kháng viêm, giảm các vấn đề đường tiêu hóa, tăng cường hệ miễn dịch. Nghệ có tác dụng tích cực trong điều trị các bệnh ngoài da (mụn nhọt, giúp nhanh liền sẹo), bệnh gan, khó tiêu, viêm loét đại tràng, viêm xương khớp, ngăn ngừa xơ vữa động mạch.
Các nghiên cứu gần đây cũng đang xác định tác dụng tích cực của curcumin trong phòng chống ung thư, Alzheimer, chống viêm khớp, chống thoái hóa, chống thiếu máu cục bộ và kháng viêm
Công dụng:
Giải độc và bảo vệ gan. Hỗ trợ điều trị viêm gan do virus, tái tạo tế bào gan
Hỗ trợ điều trị đau dạ dày, tá tràng. Hỗ trợ tiêu hóa do thúc đẩy sự co bóp của túi mật nhưng lại không làm tăng tiết axit dạ dày
Giảm đau, kháng viêm trong đau khớp
Làm nhanh liền sẹo, chữa mụn và làm đẹp da
Tăng cường sức đề kháng, chống lão hóa, phòng chống ung thư.
Làm chậm tiến triển của bệnh Alzheimer
Hướng dẫn sử dụng:
Uống 1 viên mỗi ngày, sau ăn hoặc theo chỉ dẫn của chuyên gia tư vấn sức khỏe
Thành phần:
Serving size: 1 tablet
Chiết xuất nghệ (Cucuma Longa) 18:1 500mg
(95% curcuminoids)
Curcumin 380mg
Demthoxycurcumin 90mg
Bisdemethoxycurcumin 15mg
Other Turmeric Substances 15mg
Thành phần khác:
Cellulose, Silicon Dioxide, Magnesium Stearate (vegetable source), Capsule (consists of gelatin)
Sản phẩm không có thành phần từ lúa mì, gluten, đậu nành, sữa, trứng, cá /tôm, cua, sò, hến, đậu phộng / hạt cây.
Thận trọng:
Để ra khỏi tầm với của trẻ em.
Nếu bạn đang trong quá trình điều trị bệnh, đang mang thai, cho con bú, hoặc chuẩn bị có thai, trẻ dưới 18 tuổi cần tham khảo ý kiến ​​chuyên gia chăm sóc sức khỏe của bạn trước khi sử dụng sản phẩm này
---------------------------------------------------------------------
Review từ các khách hàng Mỹ:
Lowered blood glucose and blood pressure, March 23, 2012
By Nina (Dallas, TX USA)
Rating:
I heard about Curcumin from my family therapist who said she heard about it from both a client and a business friend. Her client was getting higher and higher glucose readings, getting into the 120s, and was told she would need to go on insulin. She researched and started taking curcumin, worked up to taking 3 capsules per day, and her glucose dropped to the high 80s within a few weeks! (I am not recommending this dose. Talk to your doctor.) My therapist's business friend takes it for her joint pain and is very happy. My therapist starting taking it since her glucose readings were were 103+. She also is now down to the high 80s!

I talked to my doctor about taking it since my glucose stays in the higher 90s and I want to lower it. (I am Hashimoto's hypothyroid with weight gain, blood sugar swing issues, and bp rose with the weight gain and stress) He was all for it to see if my glucose would drop. I take my bp to report to my doctor, and noticed that within 24 hours, my readings dropped from 130s-140s/70s to 120s/70s! I even had a 119/66. This was with 5 days of readings so far. I am astounded. My therapist thinks there is a link between the blood sugar and blood pressure. I am going to keep taking it and will keep tracking the bp. Then I will compare my bp cuff to the doctor's readings just to make sure this isn't a fluke. I will report back what I find out about the glucose and bp.
Works great, highly effective, Reommended by my Dr., February 16, 2012
By Jan S-dell "JanS-Del" (S. California)
Rating:
This product seems to work very well for me. My GI Dr. told me it would help reduce pain and it would help heal my insides and I think it has. I know when I stop taking it for a week or so last year, I don't feel as well, but when I went back on it,I felt much better. Since them I've stayed on it and I have no intention of going off it as I've also read a good deal about it on the Internet. Also it seems to help with a number of my health issues. If you are not familiar with it, I'd suggest you read about it on the Intent and then I think you'll feel as I do that it's an invaluable thing to take every day for those of us with health issues that Curcumin addresses.
Jarrow Curcumin, January 11, 2012
By Jeanette Barrowman "Penny" (CALUMET CITY, ILLINOIS, US)
Rating:
I highly recommend this product to anyone suffering from RA/Arthritis. This has helped me so much with pain/mobility and continuing deteriation. My doctor has agreed and says no harmful chemicals in this product and it does ease my suffering; allowing me to continue with my daily tasks.
Curcumin is a wonderful painkiller, January 22, 2012
By Leigh Arrathoon (Michigan, U.S.A.)
Rating:
My mother-in-law was Armenian, so she always cooked with Tumeric. It wasn't until last year that I discovered that Tumeric (Curcumin) is a wonderful remedy for joint and muscle pain. And when I began using Jarrow's Curcumin, I was delighted to discover that it was even more effective than any of the other preparations I'd tried.
Noticable Difference, November 26, 2011
By Chris St Pierre (Wilmington,NC)
Rating:
I have noticed a decrease in the amount of joint pain since I began using this product. The glucosamine seemed to have stopped working so I was in need of a replacement. I found this product through an article in Natural News that spoke of its benefits. So far I am pleased, and at the huge cost reduction its a win win!
You better be taking this:, November 4, 2011
By j-fit
Rating:
The benefits of turmeric are numerous, and should be one of those supplements just about everyone should be taking.

Anti-inflammatory, pain reliever, anti-tumor, and can help fat loss. Just overall great addition to your supplement stack.

We also give it to our Great Danes for optimal health and for the one that is on chemo.

This brand is among the cheapest while being of superior quality from independent lab testing for their product line.
Broad range of effect, September 20, 2011
By Rued Gestures
Rating:
A good friend and fellow-sufferer recommended this product to me for relief from joint inflammation and pain. After just a few doses I noticed that my ever-stiff and often-swollen hands were much more flexible and less swollen. That was terrific, and I also noticed that my knees felt better than usual. But what really took me by surprise was the improvement to my breathing. I feel like I am ventilating much better and using less energy to get a deeper, more relaxed breath, all day long. Oh yeah baby! Breathing better can't be bad, right? And I have had other improvements: my stomach also feels more balanced. I suffer greatly from a hyper-acidity condition, coupled with IBS, a painful, very explosive combination. After a four week spell of very bad IBS I was desperate to recover my well-being. Since using this product my digestive tract has felt more robust and less 'wobbly', what a blessing! As always, I saved a bundle using the 'subscribe & save' store, and I can get another bottle as often as needed. I can afford more items and there are so many specific items I have found that are hard-to-get locally, or too expensive to purchase retail. SMART Wedgite shoppers have to squeeze every last bit out of the budget, and Subscribe & Save rises to the occasion. Shop On, fellow Wedgites, Shop On!
Anti-Inflammatory, February 27, 2009
By ZoomDoc (La Canada, CA United States)
Rating:
I'm surprised there aren't more reviews on this product. Curcumin is an extract from TUMERIC. It is now being researched for its anti-inflammatory properties especially involving blood vessels. Cardiovascular disease starts out as an inflammatory condition and progresses from there. It is a potent antioxidant which protects your genes and can be considered prevention against cancer. Jarrow is a well-respected company that has a long track record for quality. There is a slight controversy. Should you use the whole herb tumeric or the extract Curcumin? I would use both combined with cayenne pepper and Hawthorne berry root. Add some Garlic extract and fish oil and you have a superior heart healthy nutrient mix. This is a very good product. And don't leave out the Coenzyme Q-10.
Jarrow Curcumin-95 50 mgs, January 30, 2010
By LG "sparklytwink" (TX)
Rating:
I bought these because I'd been reading that curcumin (an ingredient in turmeric) is helpful in controlling psoriasis. I've been on Soriatane, a prescription capsule, for several years and taking a half dose (one Soriatane cap per day) plus two capsules of the curcumin seems just as effective as the full dose of Soriatane with way fewer side effects. Soriatane is insanely expensive and can really beat up your liver, so the curcumin experiment seemed reasonable to me. Two months in and it appears to be working just fine. My doctor is pleased with my latest labs and my psoriasis is manageable (not gone, but better than it was on just the half dose of Soriatane -- about the same as it was on a full dose of Soriatane), so I'm happy with this product. Note: psoriasis flares and wanes and you usually never know why, but usually in January mine is really bad. This year it's not too bad, though a half dose of Soriatane does not control it. I definitely think the curcumin has helped, and I'm not one of the "nature is best/drugs are bad/eat healthy and you'll cure anything" crowd...I was skeptical but willing to give it a couple of months. So far, so good.
No more inflammation, January 28, 2008
By S. Burleson (Houston, TX USA)
Rating:
I have had much inflammation from arthritis. At my last checkup, I was told I had "no inflammation in your body."
PREVENTS BOILS, July 27, 2010
By R. Burns (Nashville, TN USA)
Rating:
For some reason I began getting boils about 2 years ago. They never went away and really became something awful to have to deal with . I had at least one all the time. I tried several home remedies and other natural products. Then I read about these Curcumin supplements. I would have given anything a try. I began taking one per day after lunch in March, 2010 - in May, I noticed I hadn't gotten any new boils. I was afraid to think I had found a cure. It will be August in a few days and I haven't had a boil in 3 months! That may not sound like a long time but it is forever for someone who suffers from boils! I am THRILLED. I have had no side effects that I can tell. I consider this a wonder drug - so far...so good!
Curcumin beats cancer, August 26, 2008
By W. W. Barnhill (Texas)
Rating:
My doctor (dermatologist) recommended that I take curcumin as a preventative against skin cancer. He gave me a report from MD Anderson research that showed curcumin was proven effective in "turning off" many kinds of cancer cells. I found the Jarrow Curcumin 95 to be an excellent value for a quality source of this herb that is the active ingredient in tumeric or curry.
One week impressions..., February 27, 2011
By Patricia H. Wolford (WV)
Rating:
I'm a 60 year old female. I have only taken this product once a day for one week. Here is what I've noticed so far: My sleep is much sounder and I have felt more rested. I didn't expect this benefit from Curcumin, but having had sleep issues most of my life, I welcome it! Curcumin is the only thing I've done differently, so I attribute it to the improved change in sleep. Also, I have arthritis, and I've noticed less aching. This alone may be the reason for the improved sleep, since discomfort often keeps me awake. Lastly, I've noticed improved motivation to complete mundane tasks, such as housework.
Since this is a review of only one week with the product, I'll update my impressions after a month or so.
Relief at last!, February 17, 2008
By Bibliophile
Rating:
Post-op inflammation just would not go away, despite NSAIDs and ice 24/7. This curcumin finally did it! I tried it after reading research online & clearing the approach with my doctor. What a relief!
anti-stomach acidity, March 10, 2010
By Mohager
Rating:
i have been taken this product for more than three months to reduce my stomach acidity, really it's great product.
(daily one capsule while eating).
Very much seems to enhance mental alertness, July 6, 2009
By Len (Connecticut USA)
Rating:
It's hard to tell if a nutritional supplement is working, or you just think it's working. I was taking curcumin in a lesser dosage than this for a year before switching to this version. I thought the lower dose version was effective at enhancing mental alertness. This version seems much more effective. I highly recommend trying it.
Highly Recommended Supplement but watch out for the other...., October 20, 2010
By VJ (Orange County CA)
Rating:
After passing my 40's birthday, I started to notice my body is getting old and many problems started to occur. Also, my body could not handle alcohol as much as used to be but drinking beers have been a part of my social life with my distant family members oversea; my relative suggested me to take a special kind of drink before consuming the beer to go easy on my liver.

After came back to the US, I started looking for the special kind of drinks but those were expensive. My wife suggested me to take the Turmeric supplement since it is the main ingredient in the special drink and costs much less $$.

My intention of taking Turmeric was to assist my liver to work less hard when drinking the beer. However, after taking Curcumin-95 for a month, I noticed the following improvements by surprise:

Skin tone - my skin somehow looks healthier.

Arthritis inflammation - I am no longer suffering pain from my knee and joints.

Heartburn or stomach acidity - I used to get heartburn. Now I can eat what I want and drink whatever I want w/o worry.

Back Pain - I noticed my back pain is gone after waking up in the morning.

Mental Alertness - I am able to focus on task and improved my mood. Hint: I take the supplement together with fish oils. This seems to help the absorption.

Conclusion: I learned that Curcumin in the Turmeric makes your liver works less hard when I consumed alcohol. The liver filters out toxin in the body and logically I would assume the chance of getting Alzheimer's maybe reduced. I take x 1 daily and Jarrow brand works well for me and my wife... However, do not overdose... pay close attention to the Other ingredients and the additives in any supplement.... Good luck!!