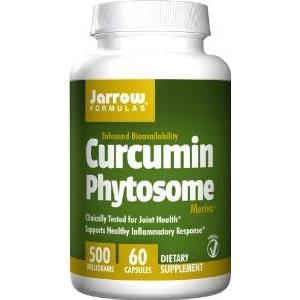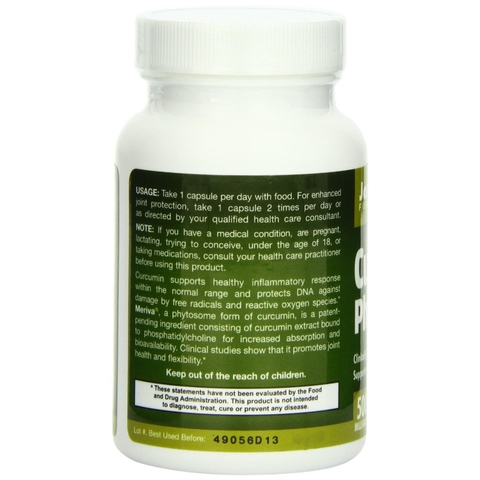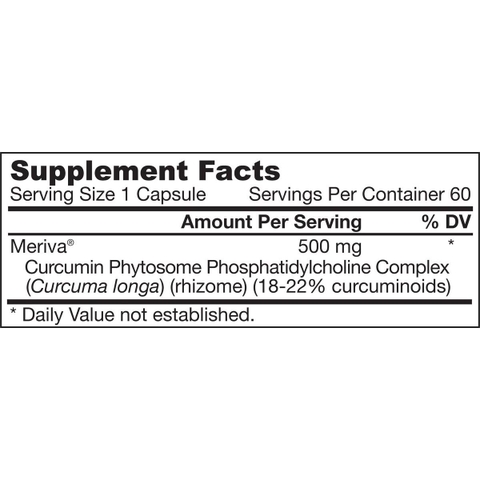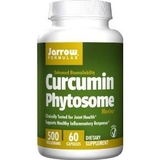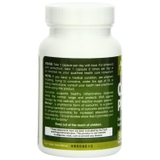 Curcumin Phytosome (Tinh bột nghệ Phytosome ) 500 mg. Lọ 60 viên
Curcumin hỗ trợ phản ứng viêm và bảo vệ DNA tránh các hư hại gây ra bởi phản ứng oxy hóa trong cơ thể
Meriva, một dạng của phytosome curcumin, đã được cấp bằng sáng chế bao gồm các chiết xuất curcumin gắn với phosphatidylcholine giúp tăng hấp thu và sinh khả dụng của Curcumin. Nghiên cứu lâm sàng cho thấy Curcumin Phytosome hỗ trợ sức khỏe chung và giúp khớp xương linh hoạt.
Tác dụng:
Nghệ với thành phần hoạt chất chính là curcumin, đã được sử dụng lâu đời tại các nước châu Á . Người Ấn độ đã sử dụng nghệ như một chất kháng khuẩn hay sát trùng vết cắt, vết bỏng hay bầm tím. Ở một số nước châu Á như Việt Nam, Trung quốc nghệ được biết tới như một phương thuốc hữu hiệu với các bệnh dạ dày hay giúp làm liền sẹo.
Nghệ được sử dụng để kháng viêm, giảm các vấn đề đường tiêu hóa, tăng cường hệ miễn dịch. Nghệ có tác dụng tích cực trong điều trị các bệnh ngoài da (mụn nhọt, giúp nhanh liền sẹo), bệnh gan, khó tiêu, viêm loét đại tràng, viêm xương khớp, ngăn ngừa xơ vữa động mạch.
Các nghiên cứu gần đây cũng đang xác định tác dụng tích cực của curcumin trong phòng chống ung thư, Alzheimer, chống viêm khớp, chống thoái hóa, chống thiếu máu cục bộ và kháng viêm.
Curcumin (curcumin, demethoxycurcumin, bisdemethoxycurcumin) rất khó tan trong nước nên thường kém hấp thu khi dùng bằng đường uống. Công nghệ độc quyền Phytosome giải quyết vấn đề này. Trong Curcumin Phytosome mỗi phân tử curcuminoid được gắn với các phân tử của màng tế bào phosphatidylcholine (PC). Do đó Curcumins dễ dàng được gắn vào các tế bào của con người và các mô, PC giúp Curcumins có hoạt tính sinh học cao hơn hẳn các sản phẩm Curcumin không phytosome
Công dụng:
Chống oxy hóa
Giải độc và bảo vệ gan.
Hỗ trợ tiêu hóa do thúc đẩy sự co bóp của túi mật nhưng lại không làm tăng tiết axit dạ dày
Giảm đau, kháng viêm trong đau khớp
Làm nhanh liền sẹo, chữa mụn và làm đẹp da
Phòng chống ung thư tuyến tụy, đa u tủy và ung thư đại trực tràng.
Làm chậm tiến triển của bệnh Alzheimer
Hướng dẫn sử dụng:
Uống 1 viên mỗi ngày, sau ăn hoặc theo chỉ dẫn của chuyên gia tư vấn sức khỏe
Trong trường hợp cần nâng cao hiệu quả kháng viêm: Uống 1 viên x 2 lần/ngày
Thành phần:
Serving size: 1 tablet
Meriva® 500mg
Curcumin Phytosome Phosphatidylcholine complex (Curcuma Longa) 18-22% curcuminoids
Thành phần khác:
Cellulose, Silicon Dioxide, Magnesium Stearate (vegetable source), Capsule (consists of gelatin)
Sản phẩm không có thành phần từ lúa mì, gluten, đậu nành, sữa, trứng, cá /tôm, cua, sò, hến, đậu phộng / hạt cây.
Thận trọng:
Để ra khỏi tầm với của trẻ em.
Nếu bạn đang trong quá trình điều trị bệnh, đang mang thai, cho con bú, hoặc chuẩn bị có thai, trẻ dưới 18 tuổi cần tham khảo ý kiến ​​chuyên gia chăm sóc sức khỏe của bạn trước khi sử dụng sản phẩm này
---------------------------------------------------------------------
Review từ các khách hàng Mỹ:
Unlike so many supplements, Curcumin's effects can be felt subjectively,
April 16, 2014
Rating:
I tried curcumin for a short time several years ago, for my arthritic knee that flares up maybe twice a month. Curcumin is an Indian Ayurvedic medicine derived from the tumeric spice, touted as an effective pain reliever, anti-oxidant and anti-inflammatory. I don't recall being overly impressed with curcumin then, but I've been hearing and reading so much about positive, even near-spectacular results in testing of curcumin and the spice it's derived from, tumeric. So I decided to have another go at curcumin here - this offering from Jarrow contains Meriva, a soy based suspension that helps the body absorb the curcumin. After a week treating my knee with it, certainly does perform as well or better than its mainstream medicine counterparts ibuprofen and aspirin. And its side effects are reportedly fewer and less dangerous, though I'm not a good judge of any difference there, as I've never experienced any real side effects with nsaids, and there were none with Curcumin. Conclusion: Aspirin is called a wonder drug for good reasons, and although curcumin appears to have wonder drug potential written all over it, I'm not sure why I would switch. I'm going to continue with the curcumin only through this bottle, but after that I believe I'll determine which one ois more cost-effective before I decide.
A GREAT ADDITION TO MY ANTI-INFLAMATORY REGIME.,
March 20, 2014
Rating:
I have issues with joint stiffness and pain. Curcumin Phytosome by Jarrow--a company I love, gives me this great addition to the other supplements I am taking for this issue. Every product I have ever used by Jarrow I love. You get an exact dosage each time, never a stomach upset, and with Curcumin Phytosome, I have an improvement in joint pain and stiffness.
Curcumin for Artheritis managment,
February 3, 2014
Rating:
My Dr. changed my plain Curcumin (replaced perscription Arthritis med's) to Curcumin with Phytosome because of recent studies. My dosage dropped from 8 a day to 2 a day. Big savings and my Arthritis is much better managed!
Helps with my carpal tunnel symptoms,
January 16, 2014
Rating:
Curcumin is supposed to have a lot of health benefits, such as preventing inflammation, helping with digestive issues, being an anti-oxidant, preventing some types of cancer, treating Alzheimer's and Parkinson's diseases, treating diabetes and even treating depression. This phytosome form enables increased absorption of curcumin to a level 29-fold higher than that of traditional curcuminoid products.
I've been taking this curcumin to treat carpal tunnel issues, and I've noticed a definite improvement in my symptoms. There has been less pain and tingling in my wrists, and I find it more effective than other things I've taken, such as fish oil.
This is a very high quality form of curcumin and I highly recommend it.
Jarrow Formulas is a trusted brand, Curcurmin is EXCELLENT as a natural anti-inflammatory and chronic pain relief.,
January 16, 2014
Rating:
Jarrow Formulas has become a very trusted brand in our household. This Curcumin formula has been effective as a natural anti-inflammatory to help provide relief from chronic pain that I've been enduring for many years. Curcumin is so effective (derived from the spice turmeric) that my husband was able to mostly forego Rx narcotic pain medications by using curcumin and turmeric when he had hip surgery awhile back. He suffers from a compression fracture of a couple vertebra in his back, when they were acting up recently he found relief using Jarrow Formulas Curcumin. We are pleased, I will definitely consider purchasing in the future as needed.
Nice strong curcumin supplement,
October 12, 2013
Rating:
I take curcumin to help with cancer recurrence. Some supplements upset my stomach, but not this one. I take 2 a day, which is a lot. I do "taste" the spice in my mouth for a while after, but no tummy upset. Can't comment on any other uses, but I feel great and have been cancer free for over 2 years.
Effective, inexpensive and high quality,
October 29, 2013
Rating:
If you look at my past reviews, you'll see quite a roster of various joint/inflammation supplements, as I'm always seeking the latest, greatest product for my knee and shoulder pains. I have downed a number of bottles of curcumin/turmeric products, but Jarrow Formulas' Curcumin Phytosome's formula is quite unique. The curcumin is a patent-pending form called Meriva, which Jarrow claims has better bioavailability and absorption than standard curcumin.
EFFECTIVENESS:
For the first couple of weeks, I started off taking the recommended one capsule per day, but had to increase to two before I noticed benefits. So I'm unsure of the claims of greater bioavailability, as I would assume my inflammation would have decreased sooner and on a smaller dosage if my body was utilizing the curcumin more effectively. But, my knees and shoulder did eventually begin to feel better, so with time it did work.
CAPSULES:
Really easy to swallow, no disagreeable odor (turmeric has a pleasing scent as it is), and the capsules are derived from celluose, making this vegetarian approved.
VALUE:
On a one capsule per day regimen, you'd be hard pressed to find a better deal, as each bottle yields a two month supply. But increasing to two caps per day, as I did, renders the product a little less cost effective, though still far more inexpensive than other joint supplements.
OVERALL:
A great product that does work, is easy on the wallet and is easy to take. Definitely one of the better joint supplements I have tried, so I highly recommend giving it a shot!
A Nice Spice,
November 29, 2013
Rating:
I picked up Jarrow Formulas Curcumin for its purported pain relief effects. I can offer only my anecdotal experience with it. I have knee pain that comes and goes, sometimes lasting several weeks. I haven't injured my knees, so it's probably due to old age. Ibuprofen helps but doesn't always take the pain away, plus I'd prefer not to take NSAIDs if possible.
Since I started taking this curcumin (1 capsule/day, per the instructions), my knees have felt fine. I can't say whether it's the curcumin or just coincidental, so I will update this review as time passes. At this point, it appears that the curcumin is working, so I give it five stars. I'd recommend giving it a try.
A Must for Ailments that Involve Swelling,
October 7, 2013
Rating:
I've heard of curcumin talked about as a way to help with stress, and that it promotes a calming mood, but most studies deal with the anti-oxidant, anti-inflammatory aspects of curcumin. So many ailments have swelling as part of the problem, from arthritis and joint health, to cancer, and it is even supposed to help our immune system. Curcumin is used frequently in Chinese medicine, and of course eaten a lot in India in its form as turmeric, that wonderful spice that turns food a savory mellow yellow orange color.
Jarrow is a company that is reliable for its quality, and I always feel safe that they are using well tested and high grade ingredients. Jarrow Curcumin Phytosome is safe for vegans, but it does say it contains soy. The capsules (in that mellow yellow orange color!) are medium sized and very easy to swallow.
Curcumin is one of those supplements I have been taking for a while, and dare not stop! Diagnosed with stage 4 cancer in 2010, I'm doing so well, and "defying the statistics" as my oncologist says. Many other cancer patients that I have talked to, and read about, are convinced of the benefits of taking curcumin. "The proof is in the pudding" as they say, and if we are taking curcumin and feeling well, there must be something to it!
Jarrow's newest Curcumin,
September 25, 2013
Rating:
I have some history of immune deficiency issues with Epstein Barr, Lupus and Fibromyalgia and have been reading about the use of Curcumin to help boost your immune system and help reduce inflammation. As with most supplements or vitamins, it's very difficult to quantify the exact effectiveness of the product and with Curcumin, from what I understand, it is very difficult to absorb for effectiveness.
This Jarrow brand has Meriva, a form of Curcumin, which is better absorbed into the body. Here is an excerpt from the Jarrow website:
Curcumin supports healthy inflammatory response within the normal range and protects DNA against damage by free radicals and reactive oxygen species.* Meriva®, a phytosome form of curcumin, is a patent-pending ingredient consisting of curcumin extract bound to phosphatidylcholine for increased absorption and bioavailability. Clinical studies show that it promotes joint health and flexibility.
I called Jarrow to ask a few questions. It is somewhat difficult for me to swallow a pill this size, so I asked if I could open the capsule and mix it in food. They recommend mixing it well into the food, like yogurt, so you would not taste it and it would be less likely to irritate your throat or esophagus.
Also I questioned about the comparison of dosage between this Curcumin Phytosome and straight Curcumin. They said that the company that makes the Meriva believes that since Phytosome is a fat which helps to absorb the Curcumin better into your system. They stated that the maximum of curcuminoids per capsule is 110mg. They do not make a direct comparison to non-Meriva dosages like their Curcumin 95 which has about 475mg of curcuminoids per capsule. In other words, this capsule because it is Meriva may have the same health benefit as the Curcumin 95, but they are not making that claim. So you have to decide for yourself which to buy.
Additionally, they stated that the soy in the supplement is non-GMO soy, which is a good thing.