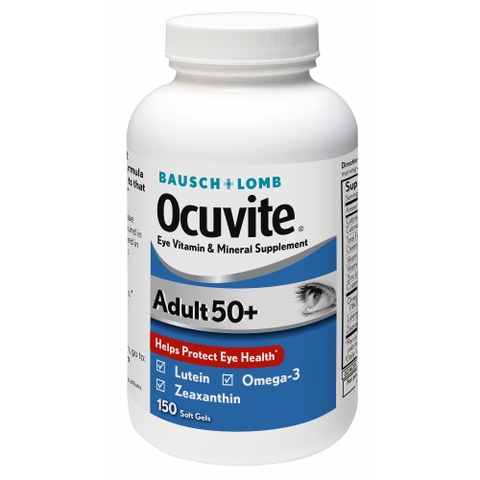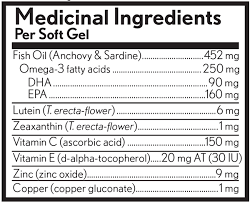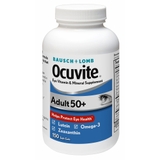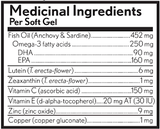 Ocuvite Adult 50+. Lọ 150 viên nang mềm
Sản phẩm dinh dưỡng cho mắt dành cho người trên 50 tuổi
Công thức tiên tiến Ocuvite Adult 50+ của Bausch + Lomb's dạng viên nang mềm đặc biệt giúp bổ sung chất dinh dưỡng quan trọng mắt cho người lớn tuổi
Vai trò của các chất dinh dưỡng trong mắt
Lutein và Zeaxanthin : Trợ giúp để lọc ánh sáng xanh có hại và hỗ trợ điểm vàng
Omega-3: chất dinh dưỡng thiết yếu rất quan trọng cho võng mạc
Ocuvite Adult 50+ có bổ sung thêm các chất chống oxy hóa và chất dinh dưỡng cần thiết cho mắt, bao gồm vitamin C, E và kẽm để giúp bảo vệ mắt
Bausch + Lomb đã phát triển công thức độc đáo Ocuvite Adult 50+ cung cấp các chất dinh dưỡng cần thiết hàng ngày mắt thường không được cung cấp đủ số lượng qua chế độ ăn uống thong thường
Công dụng:
- Cung cấp dưỡng chất, các chất chống oxy hóa cần thiết cho mắt cho người trên 50 tuổi
- Phòng ngừa các bệnh mãn tính của mắt như bệnh đục thủy tinh thể, bệnh thoái hoá điểm vàng (hoàng điểm) ở người lớn tuổi
Hướng dẫn sử dụng:
Ngày uống 1 viên vào buổi sáng với một ly nước đầy trong bữa ăn hoặc theo chỉ dẫn của bác sỹ
Thông tin dinh dưỡng:
Serving Size: 1 Soft Gel
Amount Per Serving - % Daily Value*:
Calories: 5
Calories from Fat: 5
Total Fat: 0.5g-1%*
Cholesterol: <5mg- 2%
Vitamin C (ascorbic acid): 150mg- 250%
Vitamin E (d-alpha tocopherol): 30IU- 100%
Zinc (as zinc oxide): 9mg- 60%
Copper (as copper gluconate): 1mg- 50%
Omega-3 fatty acids (160mg EPA, 90mg DHA): 250mg†
Omega-3 fatty acids (160mg EPA, 90mg DHA): 250mg†
Lutein**: 5mg†
Zeaxanthin**: 1mg†
*Percent Daily Values (DV) are based on a 2,000 calorie diet.
**May be sourced from Tagetes erecta, a flower.
†Daily value not established.
Thành phần khác
Gelatin, Fish Oil (anchovy, sardine), Glycerin, Yellow Beeswax, Silicon Dioxide, Soy Lecithin, FD&C Red #40, FD&C Blue #1, Titanium Dioxide, Natural flavoring.
Bảo quản:
Bảo quản ở nhiệt độ phòng
Để xa tầm tay của trẻ em
---------------------------------------------------------------------
Review từ các khách hàng Mỹ:
Helped reduce floaters
By A.W.T.Night on January 11, 2009
Rating:
I have been taking Occuvite 50+ for a few years on the recommendation of an optometrist, who thought he might have detected the beginning of macular degeneration. At the time, I had begun to notice an increase in floaters in my eyes. I am not aware of any relation between the two conditions, but over time the floaters have decreased. That might have happened anyway, but I mentioned it to my elderly mother, who has a big problem with floaters, and she wanted to give Ocuvite 50+ a try. After a year of taking one pill a day, she says her floaters have significantly decreased, and in addition she can see better: She does not have to use a magnifying glass as much when reading. So we think it is working well for us, but the only way to really tell if it is making the difference is to stop taking it and notice worsening, then start taking it and notice improvement again. The potential worsening of vision and time lag to seeing results is too long for us to be willing to do the trials. We prefer to let sleeping dogs lie. If it's not broken, don't fix it.
I wanted to compare this product to other Ocuvite products such as the new Preservision, but could not easily find the ingrediants on-line. (I hope they were not in plain sight, which would mean I am going blind! :-) Anyway, here are the ingrediants from the bottle. Reading them was an exercise in vision, since the type was extremely small. (Perhaps it should say: If you can't read the ingrediants, then you need to take the product! :-)
Vitamin C 150 mg, Vitamin E 30 IU, Zinc 9 mg, Copper 1 mg, Lutein 6 mg, Omega-1 150 mg. Other ingrediants: Gelatin, Fish oil (anchovy, sardine), Glycerin, Yellow beeswax, Silicon Dioxide, Soy Lecithin (contains peanut oil), Caramel color, Titanium Dioxide, Blue 2 Lake, Yellow #6 Lake, Red #40, Red #40 Lake.
Wouldn't do without it!
By Lysan on June 24, 2012
Rating:
I've been using Ocuvite for several months now, in addtiona to a Lutein . I take the Lutain 20mg, in the morning and the Ocuvite, which contains 6mg, at night. I have noticed much improvement in my sight. Lutein is very essiantal to good eyesight and even though it does not cure serious vision problems, it helps slowing them down. I have talked to my opthomologist about it and she highly recommends it. It seems that everyone over 40 years can benfit from this product, even if no vision problems are noticeable yet. My son, who is in his mid-forties, might be a candidate for glaucoma (he goes for regular tests) and his doctor also said it could be helpful in retarting it. I have macular degenariton and appreciate every little help I can get in slowing it down. Last year this time, I could not even go out by myself because everything was just a big blur. Now, I can see the scenery around me, the trees and flowers, much more clearly. I can go shopping again and actually find the products I'm looking for. Reading and writing have also become much better and I'm able to work my way around the internet quite easily. I do get a shot in the eye every few weeks to stop the bleeding, but I feel that the Lutein supplements have added much to my improvement. I recommend Ocuvite to everyone who has some vision problems, no matter how minor. I, and my son, have not have any side effects, but feel much better for taking it. Would not do without it anymore and just thankful, that such a product is on the market.
10/31/2012
I'd like to make this update. I've been using Octuvite now for well over a year and still have nothing but praise for it. My vision has improved greatly. I can actually read most fine print again, something I was not able to about a year ago. I don't want to give anyone the idea that this is a miracle pill - I'm just convinced that it helped me personally over a period of time, together with 20mg of Lutein, which I also take daily.
Miracle cure?
December 13, 2010
By Crystal River
Rating:
I started taking Ocuvite over 19 months ago, along with Omega 3 Supplement, and have found remarkable improvement in my eyesight. I had been diagnosed with the beginning of Macular Degeneration, and dry eyes. I recently noticed that I can now read WITHOUT my glasses, and have no idea where that came from. I am 76 years old, and an active golfer, so glasses hindered my game...
Help other cust
HIGHLY RECOMMEND
April 21, 2011
By Melanie's Grandma "Renee" (Miami, Fl USA)
Rating:
I've been taking Occuvite Adult 50 plus Eye Vitamin & Mineral in soft gel form and found it to not only maintain my eyesight but my nails have been growing like crazy. It's the first time that I have naturally long healthy nails. I imagine it's doing the same for my eyes: providing the nutrients that I needed for healthy eyes.
Excellent Product
June 24, 2012
By Linda Dalton (USA)
Rating:
My family has used these supplements for the last 7 years. My dad was advised to use these because of the onset of macular degeneration. He seemed to feel that using these in conjunction with his other meds helped to keep his condition from getting worse.
My husband has been taking these as an all-round supplement for a few months now and has been impressed with how they make him feel - thus this order. Combined with a great price, outstanding delivery and a very good product, this was a sure winner.
Finally a pill that stopped the vision loss!!!
September 9, 2012
By Gabriella Kalman "Gabriellachka" (Brooklyn, NY) - See all my reviews
Rating:
I originally saw an ad for these on tv and decided to get these for my mom whose eyesight seemed to get worse daily. She would not be able to read almost anything without a magnifying glass. She tried a few other vision pills but they weren't much help, so I figure we could try these pills too. She has been on them for about 4 months now and she claims to see much better. I notice that she sees better as she doesn't walk around the house with a magnifying glass anymore. I will continue getting these pills for her as these were the only thing that stopped her eye lose. Highly Reccomend!!
It works!
April 21, 2013
By Ranger Bushnell
Rating:
I'm nearly 50 years old and had PRK corrective surgery about 15+ years ago. I found that my eyes were tiring easy especially if I was trying to read without my reading glasses. I watched the TV commercial and decided to give Ocuvite a try. I noticed an improvement. My wife started taking Ocuvite and feels an improvement also. I'm recommending to my parents.
I highly recommend them.
December 21, 2014
By lee wilson
Rating:
I can see vision improvement. I highly recommend them.
Great prevention for Drusen
December 19, 2014
Rating:
Was recently diagnosed with drusen and have a family history of macular degeneration. My opthamologist told me, this was my best bet for staving off what I have control over. That and not smoking (which I don't but just FYI if you suffer from the same genetics as me on this issue). So - is it working? Who can say - been on it for about 2 years no and no changes in my retina - it will never get better, so this is strictly preventative so I'll 'things are unchanged' as a good thing. I'll be taking these the rest of my life and glad they have it.
Downside - this pill is huge. So if you have swallowing issues, be aware.
My doctor was amazed at how healthy my eyes were when he studied ...,
January 2, 2015
By COLONEL (Michigan, USA)
Rating:
I've taken this product for several years. My doctor was amazed at how healthy my eyes were when he studied them through his spectra-scope. Even though I've been wearing glasses since age 7 and am now in my Senior years, he believes my taken Ocuvite is a contributing factor to my healthy eyes.